Discover some of the best places to visit in China. Here we can find out about capitals old and new, China's answer to Hawaii, and the ancient Silk Road.
Tourism in China
Planning a trip to the Middle Kingdom? Look no further than this comprehensive guide of the best places to visit in China. We will discover what there is to see and do, things you need to know before you go and much more.
From the Great Wall of China to the Himalayas in Tibet and everything in between, take a journey through some of the most beautiful places in China.
If you plan on backpacking, then read my guide to backpacking in China for great ways to save money!
Check out these 40 incredible China Landmarks!
---
---
Places to Visit in China – Top Chinese Cities
Beijing
Top Beijing Attractions
The Great Wall of China
Forbidden Palace
Temple of Heaven
Summer Palace
Lama Temple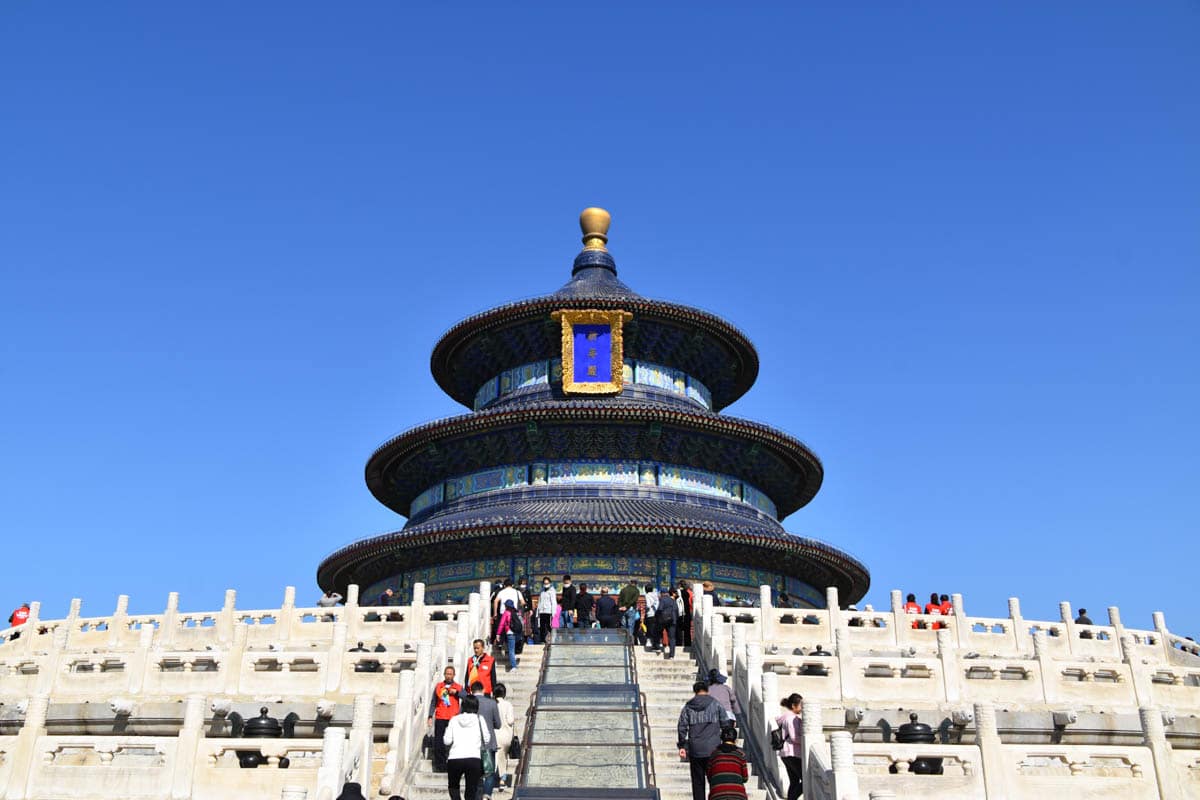 China's capital Beijing is packed to bursting with culture. From the small hutongs (alleys) around Tiananmen Square to the giant Forbidden City complex, temples, museums, galleries and restaurants, there is something for everyone here.
Although the city is massive, there are innumerable parks and green spaces such as at the Summer Palace, Beihai Park, Baiwang Mountain Park and Jingshan Park to name but a few!
Beijing is only 60km from some of the best-restored sections of the Great Wall such as Badaling and makes an easy day trip to see one of the ancient wonders of the world!
Beijing is perfect for exploring on your own, but if you want to take the hassle out of a visit, our partners at Get Your Guide offers a wide range of tours including the Great Wall, Forbidden Palace and more! See all Beijing tours.
---
Chengdu
Top Chengdu Attractions
Chengdu Panda Research Base
Chengdu Old Town
Wuhou Temple
Lishan Giant Buddha
Sichuan Hot Pot
Chengdu in China's southern Sichuan Province is famous around the world as the home of the giant panda. Here you can get up close and personal with these lovable creatures at the Chengdu Research Base of Giant Panda Breeding. The research base has been instrumental in recovering pandas from the brink of extinction!
The city is also famous for its Sichuan cuisine. No trip to Chengdu is complete without sampling one of the many hot pot restaurants!
Chengdu is also a great base for exploring the wild Tibetan autonomous regions to the west. Unlike Tibet propper, you do not need a permit to visit, but the areas are steeped in Tibetan culture.
---
Dunhuang
Top Dunhuang Attractions
Crescent Moon Lake
Singing Sand Dunes
Mogao Caves
White Horse Pagoda
Dunhuang is a small town in far western Gansu Province and an oasis in the Gobi Desert. Not only will you find one of China's three famous grottoes here, the Magao Caves, but also some unique natural phenomena such as Crescent Moon Lake and the Singing Sand Dunes (echoing sand mountain).
The Gobi Desert outpost of Dunhuang is definitely one of the top places to visit in China!
---
Guilin
Top Guilin Attractions
Karst Mountains
West Hill Park
Pagoda Hill
Guilin is home to some of the most famous landscapes in China. The city is surrounded by limestone karst mountains that rise from the earth like cylindrical beasts! The area is also home to many of the country's rice terraces.
There are many national parks and gardens dotted in and around the city making it the perfect destination for nature lovers!
---
Guangzhou
Top Guangzhou Attractions
Shamian Island
Canton Tower
Guangzhou Museum
Yuexiu Park
Guangzhou, formerly known as Canton, is one of the largest cities in Southern China. With its tropical climate and palm tree-lined streets it has a relaxed feel. Guangzhou has traditionally been one of the most liberal parts of China and it's easy to see why.
One of the most famous exports from the city is the Cantonese style of cooking. No trip to Guangzhou is complete without trying some local Dim Sum, a ritual for most people here!
Hangzhou
Top Hangzhou Attractions
West Lake
Liefeng Pagoda
Wushan Mountain
Longjing Tea Plantation
Hangzhou is arguably one of the prettiest cities in China thanks to West Lake and the surrounding mountains. Hangzhou has been synonymous with rest and relaxation for centuries, and the Emperors used to come here to relax.
The city is home to a vast array of cultural sights, temples, parks and gardens. There is a path around the entire circumference of the lake and you can walk the whole thing in a couple of hours.
Don't miss the nearby Longjing Tea Terraces which has been home to China's Dragon Well Tea for centuries. One of the most impressive landscapes in China!
Harbin
Top Harbin Attractions
China's frozen northern City of Harbin has a distinctly Russian feel thanks to its close proximity to nearby Siberia. The city was actually built by the Russians working on the Trans Siberian Railway and you will find a lot of Russian architecture across the city.
Harbin is famed around the world for its annual ice and snow festival where landmarks from around the world are recreated entirely from ice. In winter, the frozen Songhua River turns into a theme park with skiing, skating, snowmobiling and much more.
Luoyang
Top Luoyang Attractions
Luoyang Old Town
Museum of Anicent Art and Tombs
China's ancient capital Luoyang is one of the country's hidden gems and home to some of the country's most important cultural sites. The Longmen Grottoes houses a collection of thousands of carvings of the Buddha, ranging in size from a couple of centimeters to upwards of 17 metres!
Luoyang has an impressive Old Town with ancient buildings, craft stalls and restaurants specialising in the famous water banquet; a meal of 24 soups served to emperors!
Other attractions include White Horse Temple, the birthplace of Buddhism in China, and the nearby Shaolin Temple which is where the martial art of Kung Fu (Wushu) originated.
---
Sanya
Top Sanya Attractions
Sanya Bay
Dadonghai
Linchunling Forest Park
Yalong Bay
West Island
The city of Sanya on Hainan Island is a tropical holiday resort with miles of sandy beaches, mountains and rainforest. Here you will find China's fledgling surfing scene at Houhai and Riyue Bay plus a tonne of other waterborne activities such as scuba diving, snorkeling, boating and more.
Sanya is also home to some of the best restaurants in China from Gordon Ramsey's kitchen at the Hotel Atlantis, to Italian, Indian, Nepalese and more, which is a rarity for China outside of Beijing or Shanghai.
The perfect destination for a winter getaway thanks to it year-round warm weather!
Check out my guide to the best hotels, hostels and apartments in Sanya.
---
Shanghai
Top Shanghai Attractions
The Bund
Oriental Pearl Tower
Shanghai Museum
River Cruise
Although somewhat lacking in the culture of say Beijing or nearby Hangzhou, Shanghai is China's "World City" and business hub. Here you can find some of the best dining in the country (with a price tag to match) as well as European architecture dating to the 1800s.
The area around the Bund and promenade is one of China's most recognisable city-scapes and is well worth a look! Go up to the top of the Pearl TV Tower for even better views of the city!
---
Xian
Top Xian Attractions
Xian Walled City
Terracotta Warrioirs
Giant Wild Goose Pagoda
Bell and Drum Towers
MuslimQuarter
Xian was once the capital of China and also the starting point of the ancient Silk Road. The city is packed with culture from the Bell and Drum Towers in the centre, to the city walls stretching some 14km around the old city. Xian is also famous for its Muslim Quarter and the food prepared by the city's Uighur inhabitants.
Of course, Xian is most famous for the Terracotta Army of Warriors and Horses, one of the greatest archaeological discoveries of the 20th Century. No trip to China is complete without a trip to see the excavation pits full of lifesize warrioirs and horses constructed to protect the first Emperor of China in the afterlife!
---
Yangshuo
Top Yangshuo Attractions
Carst Mountains
Li River
Xingping
Like nearby Guilin, Yangshuo is also home to some of China's most famous views. Here you will find the Li River running through a beautiful landscape of limestone karst mountains. It is here you can still see the locals fishing with cormorants (although now likely just to please the tourists).
The small settlement of Xingping is the location of the scene on the 20 Yuan note and is definitely worth a visit! Yangshuo and the surrounding areas are one of the best places to visit in China thanks to the stunning natural landscapes!
---
Top China National Parks
Huashan
Do you have the stomach for the famous "plank walk", one of China's most dangerous walkways? Huashan is one of China's five holy mountains and can be climbed or visited by cable car. Some sections of the mountain are very dangerous, such as the aforementioned plank walk, and therefore visitors must be clipped into a safety harness.
Siguniangshan
Siguniangshan, or Four Sisters Mountain, is a series of peaks and valleys in the western Sichuan Tibetan Autonomous Region. You can base yourself in the small village of Rilong, which is easily reachable by bus from Chengdu (four hours). From here you can spend days exploring each of the three main valleys.
Zhangjiajie
Made famous by the science fiction movie Avatar, Zhangjiajie National Forest Park is home to some of China's most impressive Karst mountains. Zhangjiajie was the first national park to be opened in China and is one of the best places to visit on any trip to China.
Zhangye Danxia
The Rainbow Mountains in Gansu Province are one of the best places to visit in China in terms of scenery. The nearby Bingguo Danxia landform is also worth discovering thanks to its unique rock formations formed over millennia.
Yuntaishan Geopark
Yuntaishan geological park is home to a large sandstone gorge complete with large waterfalls, mountain scenery, temples and wild monkeys!
---
Places to Visit in China – Tibet
Tibet is an enchanting land of temples and snow-capped peaks spread across one of the highest places on earth. Discover more of magical Tibet, one of the most incredible places to visit in China!
---
China Tourism – Know Before you Go!
China visas
Citizens of all but a very small number of countries (including Singapore, Brunei and Japan) will need a VISA to enter China.
Since 2018 it has been a requirement to give biometric data such as fingerprints along with a VISA application, so this means you will need to visit your nearest Chinese embassy to apply.
For UK residents visit the Chinese visa Application Centre website. The application process for the Tourist Visa (L) is relatively straightforward.
How much does a tourist visa for China cost?
Current (2021) Prices for Chinese Visas
UK: £151
USA: $140
Canada: $142 CAD
Australia: $109.50 AUD
How long is a Chinese tourist visa valid for?
For UK citizens the L (tourist) VISA is valid for 24 months and multiple entries. It's also possible to apply for 5 or 10-year VISAs.
Transit Visa Exemptions
It is possible to apply for a short VISA free stay in many large cities if you are transferring flights in China. The length of stay is between 24 and 144 hours and it's not possible to leave the region where you transfer. Check with your nearest embassy. Further information can be found here.
---
Money in China
China uses the Renminbi (元) which is abbreviated to RMB and also known as the Yuan (¥). The code is CNY.
There are eight denominations of banknotes; 100, 50, 20, 10, 5, 1 RMB and 5 & 1 Jiao (1/5 and 1/10 of an RMB).
There are three denominations of coins; 1 RMB, .5 RMB and .10 RMB
Cash is used less and less in China these days as people opt to use apps such as
Wechat and Alipay. It is possible for foreigners to download Wechat and link it to your bank account back home, but you will need two people who already have the app to authorize you. VISA and Mastercard are widely accepted in all major cities.
---
Virtual Private Network (VPN)
If you will need to work or want to access many websites such as social media in China you will need to use a Virtual Private Network (VPN) to get around the "Great Firewall".
A VPN allows you to connect to a server in a different country so you can access banned websites. Express ExpressVNPand Astrill are two of the best.
You can read more in my article about the best VPNs for China.
---
Places to Visit in China – The Banknotes!
Each banknote bears the image of Mao Zedong, and on the reverse is a famous Chinese landmark. How many can you visit on your trip (extra points for a picture of you holding the banknote in front of the site)? Personally, I've visited five out of the six (just missing the Three Gorges of the Yangtze).
The Great Hall of the People in Beijing.
The Potala Palace in Lhasa
Karst Mountains in Xingping
Kui Gate on the Yangtze River.
Mount Tai in Shandong Province
West Lake in Hangzhou
Getting Around China
Flights
Domestic flights in China are cheap, making it easy to get around and cover large distances. Trip.com offer the best deals both domestically and with flights to and from China.
However, here at thetripgoeson we are all about overland travel! China has one of the best rail networks in the world which is inexpensive by world standards, convenient and comfortable. There are two different networks; the slower sleeper trains and ultra-modern bullet trains.
Bullet Trains
The bullet train is a great way to cover long distances quickly and the routes are ever-expanding. If you want to travel from say Beijing to Xi'an the fast train takes just 4.5 hours.
Considering a flight is 2.5 hours not including check-in, queuing etc, it can actually work out quicker to take the train.
Sleeper Trains
Sleeper trains are a great way to get around the country, especially for those on a budget. Not only are they much cheaper than the fast trains, but it also means you can save on a night's accommodation costs and wake up at your destination!
Buying Train Tickets in China
There are several ways to purchase train tickets in China. Tickets go on sale 30 days in advance and you can buy these direct from the station, via the dedicated ticketing offices in Chinese towns and cities, or online at Trip.com (or via their app).
To purchase a ticket at the station or ticket office you will need your passport and the train details such as number, time and day.
If you purchase your ticket online or via the app, you will be emailed a collection code and you just need to show that to the ticket window at the station to collect your ticket.
Chinese stations are very large and can be very busy so ensure you have enough time to buy/collect your ticket and catch your train. Ensure you arrive at the station at least an hour in advance.
You can read more in my on how to buy train tickets in China.
---
Taxis in China
Taxis are ubiquitous throughout China. Official cars are usually in two colours such as yellow and green. Cars will have a green or red light on the dashboard indicating that they are available.
No light means it is not in service/occupied.
There is a minimum fare of around 5 to 10 RMB and then a cost per km of around 1.5 RMB (this differs from city to city). All train stations have an official taxi rank (signposted in English) and always use these rather than private taxis.
Don't be surprised if a taxi driver stops to pick up additional passengers if they are going in the same direction. This is very common.
China Weather
From sub-arctic (Harbin) to sub-tropical (Hong Kong) and everything in between, China's weather is as varied as it's landscapes.
Beijing and northern/central parts of China typically have long, hot summers and cold winters.
The far northern Heilongjiang Province has a short warm summer and long, extremely cold winters.
Southern China benefits from year-round temperate and warm weather, with very hot and humid summers. The very south has a monsoon/rainy season from April to September.
---
China Travel Tips
Not all ATMs accept foreign bank cards so ensure you have some currency available before you arrive.
Download a VPN before coming to China to ensure you can keep connected to social media and browse the web unhindered.
Learn a few words of Mandarin and download a translation app as not many people speak English. There are also apps that can translate Chinese text which can be useful when shopping.
Use overnight trains to save on accommodation costs, but don't book a hard seat (hard sleepers are fine)!
Arrive at least an hour before travelling at train stations as security is similar to airports.
Beware of the "tea shop scam" at popular tourist sites such as the Forbidden Palace.
Only take official taxis either by flagging them down or at the taxi ranks at train stations and airports. The official taxis are easy to spot as they are coloured and will have a red/green light on top or in the window.
---
Conclusion
There are too many incredible places to visit in China for even a lifetime of exploring, but I hope you have found this article useful and have added a few of these attractions to your bucket list!
---
---
About the author:
Steve Rohan is a writer from Essex, England. He has travelled to over 60 countries, lived in China and Hong Kong, and is now living the digital nomad life on the road.
Steve prefers "slow travel" and has covered much of Europe and Asia by train, bus and boat.
Where I am now: Turkey 🇹🇷
---