The Ultimate Guide to Backpacking in China
Backpacking in China can be hugely rewarding for the intrepid traveller and doesn't have to cost the earth either. Below I will tell you all the tips I have accumulated over five years living and travelling throughout the country.
With cheap transport, food and accommodation China is one of the best destinations in the world for backpacking. To truly get a feel for the country, you really need to get off the beaten path away from places like Beijing. And the best thing is, the farther you are off the beaten track, the cheaper it gets.
Important Note: Due to the ongoing Covid-19 crisis around the world, China is not currently open to tourists. However, on 28th September 2020 China will allow foreigners with valid residence permits to return, or if expired, to apply for a visa and return. More information here.
*Disclaimer: This article contains affiliate links, which means should you click and purchase, I will receive a small commission at no extra cost to you.
Planning your Backpacking in China Trip
Step 1 – Decide on a Rough Route
The first thing you need to work out is what you want to see. China is a vast country and there is so much that seeing it all would take a lifetime. Most people want to try and fit in a few of the top attractions such as the Great Wall and Terracotta Army, and both are easily done even on a short trip.
You should also bear in mind that costs can vary depending on where you go. A week in Shanghai is going to cost considerably more than a week in a smaller city. Try and limit the amount of time you spend in "Tier 1" cities such as Beijing, Shanghai, Guangzhou and Shenzhen.
I could suggest infinite number of itineraries, but really that's going to be down to personal preference. For history, Beijing, Luoyang and Xi'an are a must. If you are more interested in nature then head to Sichuan or Yunnan. Interested in the Silk Road, head out West. Have a look at my China Guide for ideas.
Some popular attractions:
The Great Wall of China – Can be done as a day trip from Beijing
The Forbidden City, Beijing – Allow one day for the former seat of Imperial China
Longmen Grottoes, Luoyang – An easy trip from the ancient Silk Road capital of Luoyang
The Shaolin Temple – The birthplace of Kung Fu. Easily reachable from Zhengzhou or Luoyang
Huashan Mountain – Have you got the stomach for the "plank walk"? An easy day-trip from Xi'an
The Terracotta Warriors, Xi'an – One of China's most important archaeological finds
Panda Research Base, Chengdu – See the giant pandas at the Breeding and Research Centre
Harbin Ice and Snow World – An enchanted world of ice sculptures in China's coldest city!
Zhangjiajie National Forest Park – Witness otherworldly landscapes which inspired the film Avatar
Sanya – Tropical paradise of suf, sun and sand on China's southernmost island.
Potala Palace – The world-famous temple in Lhasa, Tibet.
China is very easy to get around as it has a great rail infrastructure which includes both slow (sleeper) and fast (bullet) trains. Fares are very reasonable and the trains are modern, comfortable and clean.
One of my best tips for travelling China on a budget is to make use of the sleeper trains as you can cover large distances and wake up refreshed at your destination. What's more, you will save on a night's accommodation!
You can check routes, fares and times using the Trip.com website and even book tickets online up to 30 days before departure. You will receive an E-ticket and simply need to show your passport to enter the station and board the train.
Step 2 – Apply for your Chinese Visa
The below information is provided for when tourist travel to China resumes. Presently no tourist visas are being issued. This will be updated as soon as things change.
Everyone except those from a select few countries (including Brunei, Japan and Singapore) will need to apply for a tourist "L" visa before coming to China. You will need to visit your nearest Chinese Embassy to apply as they require bio-metric data (fingerprints and photographs). UK citizens can find more information on the website.
The L tourist visa is usually valid for 30 days, however citizen of the UK, USA and Canada can also apply for a 10 year multiple entry VISA for the same price! Check the Chinese Embassy website in your country for more details.
Apply for your visa as soon as you know the dates you will be travelling and at least a couple of months before you plan to go. There is an express visa service, but it costs more.
Current (2021) Prices for Chinese Visas
UK: £151
USA: $140
Canada: $142 CAD
Australia: $109.50 AUD
Step 3 – Book Your Flight
Once you have received your visa, you can now book your flight to China if you will be flying.
The single biggest cost associated with a trip to China is likely to be your flight. Use sites such as Skyscanner to check for deals and be sure to check Trip.com who have some of the best prices for both international and domestic routes for China.
If you will be arriving in China overland, then be sure to check out my guide on travelling from Europe to China along the old Silk Road, without flying!
There are trains and buses travelling to China from neighbouring countries such as Russia, Mongolia, Kazakhstan, North Korea and Vietnam. The wilder frontiers of Kyrgystan, Tajikistan and Pakistan are a little more tricky but not imposiible to crosss.
Step 4 – Book Your Train Tickets
Most people backpacking around China will opt to take advantage of China's excellent rail network.
With both fast (bullet) train and slower overnight trains, moving around the country is very easy.
You can book train tickets online up to 30 days in advance via Trip.com. You will be emailed an e-ticket within minutes that you simply present to station staff on the day of travel.
Step 5 – Book Your Accommodation
All of the major cities have a selection of hostels, but once you get off the beaten path hotels can often cost the same price, and in areas with large tourist attractions you will be able to find bed and breakfasts and homestays.
A bed in a dormitory costs from as little as ¥60 ($9) and a private room ¥200 ($30).
If you will be travelling well off the beaten path, then you might not find any hostels. However, there are sure to be guesthousess and hotels, which can usually be had for less than a private room in a hostel! See Booking.com and Trip.com to find guesthouses in China.
Step 6 – Take out Adequate Travel Insurance
Any backpacking trip requires insurance to cover against the unexpected, and backpacking in China is no different. Now that you have booked your flights and accomodation it would be sensible to protect these expenses should you have to cancel your trip.
As China is a vast country with rugged landscapes and a healthcare system that is perhaps not what you are used to back home, travel insurance is a must. I made the mistake of travelling without insurance to Thailand and got sick. I was left with huge hospital bills of around $600. It's fair to say I won't be making that mistake again when the cost of a ssnigle-trip policy is usually under $50.
Our partners at World Nomads specialise in insurance for backpackers and have some of the best rates around. You can tailor the policy to suit your specific needs to include more adventurous activities or extra cover for expensive items like cameras and drones. Get a free no-obligation quote from the World Nomads website.
By now you should have your visa, booked your flights and accommodation and know how you are getting around. So, what to pack when backpacking in China?
There are a few things to consider when packing for a trip to China such as the climate and time of year. If you plan on visiting Harbin in winter then you will need very warm clothes as temperatures can drop to -40c. If you plan on heading south at the same time of year then you'll be wanting shorts and t-shirt too, so will need to pack for all climates! The South of China is sub-tropical and warm or hot all year round.
You can backpack China with the same belongings as you would anywhere else, however be aware that you cannot take aerosol cans or penknives onto trains or the metro, so perhaps leave your prized swiss army knife at home (I speak from experience, having had mine confiscated in Xinjiang).
Bring any medication you need from home as it might be more difficult to obtain in China. If you will be visiting parts of Sichuan or Tibet above 3,000 metres then bring Diamox as it is not available in China.
Some useful Apps include Wechat, Alipay, Maps.Me and a translator app. You will need a VPN to accesss most websites in China. ExpressVPN is the most popular for travellers.
You can eat well in China for very little which is one of the reasons it's a great place for backpackers. You can grab a steamed bun or bowl of porridge on the street for breakfast for under a dollar.
Eating street food is a great way to save, but be careful as it's also a great way to spend a few days on the hostel toilet.
Every street in China is filled with small restaurants where you can get a variety of dishes for around $3 to $5. Most places won't have a menu in English, but usually they have pictures on the wall so you can just point to something that looks edible.
Instant noodles will be your best friend while backpacking in China and there is a huge selection in supermarkets. These come in very handy on train journeys as each carriage has a free supply of hot water.
Ensure you buy your supplies at the supermarket before you travel as you will pay anything up to 10 times the price on the train or at the station.
Backpacking in China – Money
China uses the renminbi (RMB 元), also known as the yuan (¥) or CNY (confusing I know). There are eight denominations of notes; ¥100, ¥50, ¥20, ¥10, ¥5, ¥1, ¥0.50 and ¥0.10. Each note has the face of Mao on one side and a famous landmark on the other. It's fun to try and get a photo of yourself at some of these sites.
There are three denominations of coins; ¥1, ¥0.50 and ¥0.10.
Cash is almost never used now in China in favour of apps like Wechat and Alipay which can be linked to a Chinese bank account. However, cash is still accepted though some places may struggle to find the right change. Because of this, try and ensure you have plenty of smaller denomination notes handy and not just ¥100's.
ATMs are widespread in towns and cities, but not all will accept foreign cards. Bank of China and Bank of Communications are two that do accept VISA and Mastercard.
Credit and debit cards associated with foreign banks may be taken in deparment stores and large, high end restaurants. In smaller restaurants and away from the big cities it's unlikely they will accept plastic.
Sample Costs for Backpacking in China
| | | |
| --- | --- | --- |
| Item | Cost ¥ | Cost $ |
| Bottle of Water | ¥2 | $0.30 |
| Bottle of Soft Drink | ¥3 | $0.45 |
| Bowl of Noodles in Restaurant | ¥20 | $3.00 |
| Meal for 1 in Restaurant | ¥30 | $4.50 |
| Meal for 2 including Drinks | ¥150 | $22.00 |
| Bottle of Beer (Tsing Tao) | ¥5 | $0.75 |
| Bottle of Beer (Import) | ¥20 | $3.00 |
| Set Meal in McDonalds | ¥30 | $4.50 |
| Cup of Coffee in a Cafe | ¥30 | $4.50 |
| Packet of Instant Noodles | ¥8 | $1.20 |
| Metro Ticket | ¥4 | $0.60 |
| City Bus Ticket | ¥1 | $0.15 |
| 10km Taxi Ride | ¥30 | $4.50 |
Backpacking in China Post Covod-19
As of the end of September 2020, things in China are pretty normal. Businesses and schools have reopened, foreigners are being allowed back in and life is not much different to before the virus. There are however a few things to be aware of. Have a good supply of face masks as some places may require you to wear one (I haven't been asked to wear a mask anywhere for months).
You may have your temperature checked when entering or exiting stations and metro stations.
You may need to download Alipay to obtain a health code. At pressent this is just for residents. If there are any additional requirements for foreign tourists, I will update this post.
Ensure you have a bottle of anti-bacterial handwash with you to help prevent the spread of disease.
Books about China
Below are some books that will come in useful on any trip to China.
Why not check out my list of these great travel memoirs to whet your appetite?
Top Places for Backpacking in China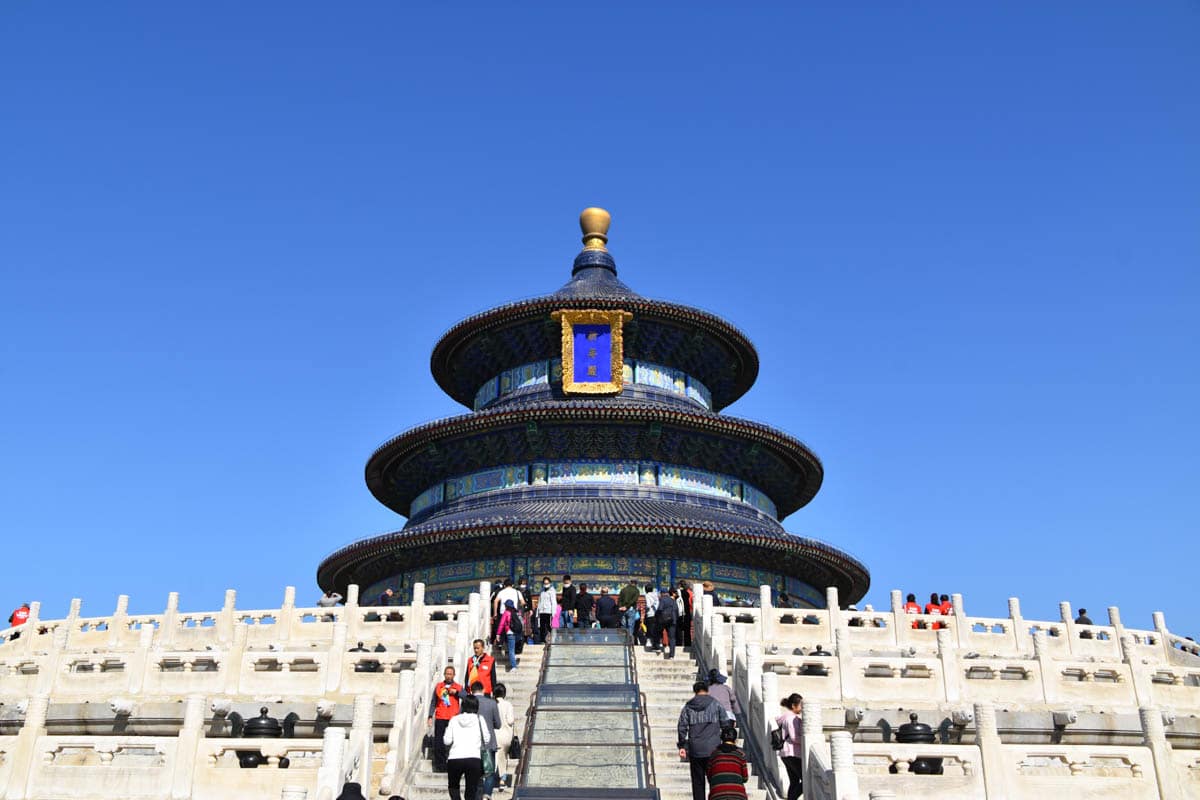 Backpacking in Beijing
No trip to China is complete without discovering this ancient historic city.
Top Sights: Forbidden City, Summer Palace, Lama Temple and Great Wall of China.
Backpacking in Xian
The ancient Silk Road city where easst meets west. A must-see destination!
Top Sights: Terracotta warriors, bell and drum Towers, Muslim quarter and city walls.
Backpacking in Chengdu
The capital of spicy Sichuan Province, Chengdu is a laid back city with plenty on offer. 
Top Sights: Panda Research Base, Leshan Buddha, Old Town
Backpacking in Zhangjiajie
Discover the "Avatar Mountains" in this gorgeous national park; the first in China!
Top Sights: Avatar Mountain, cliff-side, elevator and glass-bottomed bridge.
Backpacking in Yangshuo
Marvel at the limestone carst mountains on the Li River in this stunning part of China.
Top Sights: Li River, cormorant fishermen and Xingping (¥20 note).
Backpacking in Harbin
The winter wonderland of Harbin has a distincltly Russian feel to it. 
Top Sights: Ice and Snow Festival, St Sophia Cathedral, Unit 731 Museum.
Backpacking in Tibet
Visit the "roof of the world" for the ultimate backpacking adventure!
Top Sights: Lhasa and the Potala Palace, Yamdrok Lake, Mount Everest.
So, now you should be all set for that once in a lifetime trip to China! It really is a fantastic place for backpackers given how easy it is to travel and the relativly low costs. Whether you will be hiking the Great Wall, cuddling pandas or eating spicy Sichuan food, I am sure it will be an experience you will never forget!
Traveller Resources
Accommodation
From dorm beds to five-star luxury, our partners below provide accomodation for all tastes and budgets.
Transport
Whether you are looking for flights, ferries or trains, we've got you covered!
Insurance
Don't leave home without good cover (I made this mistake and was left with a hefty hospital bill in Thailand).
Virtual Private Network
Protect your online presence while travelling and access banned websites in countries where the internet is restricted like China and Iran.
About the Author:
Steve Rohan has lived in China for over six years and has backpacked the country extensively. He always travels overland and is never more at home than when watching the world go by from the comfort of a train.