Erzurum is Turkey's highest city at 6,200 feet above sea level and located in the east of the country not far from the Black Sea and Georgia. There are lots of great things to do in Erzurum from skiing in winter to hiking in summer and exploring historical attractions in the city.
I spent a few weeks living in the city in late 2022 while touring Turkey and loved exploring this interesting place surrounded by snow-capped mountains. Some of the top Erzurum attractions include the citadel, Palendoken Mountain and the three tombs.
Please note: This site contains affiliate links to products. We may receive a commission for purchases made through these links at no extra cost to you.
Best Things to do in Erzurum Turkey
For a smallish city there are lots of wonderful Erzurum things to do and the centre is packed with historic buildings, fortifications and some interesting architecture. All this under the towering glare of the nearby mountains.
1. Explore the Citadel (One of the Best Things to do in Erzurum)
The Citadel of Erzurum is a historic fortress that towers above the city. This large castle and fortification was originally built by the Seljuk Turks in the 11th century and has been occupied by various conquerors throughout its history.
Inside the Citadel is a small courtyard containing thousands of ancient cannonballs, an archaeological site with some ruins and the clock tower. It's possible to climb the tower, as I did, and the views of the city and mountains are fantastic.
This was one of the highlights of my trip thanks to the amazing views and is on of the top things to do in Erzurum.
Address: Camiikebir Mh., 25200 Yakutiye/Erzurum, Türkiye. Click here for directions.
Opening hours: 8am to 6:30pm daily
Ticket price: 10TL ($0.50)
---
2. See the Three Tombs of Yakutiye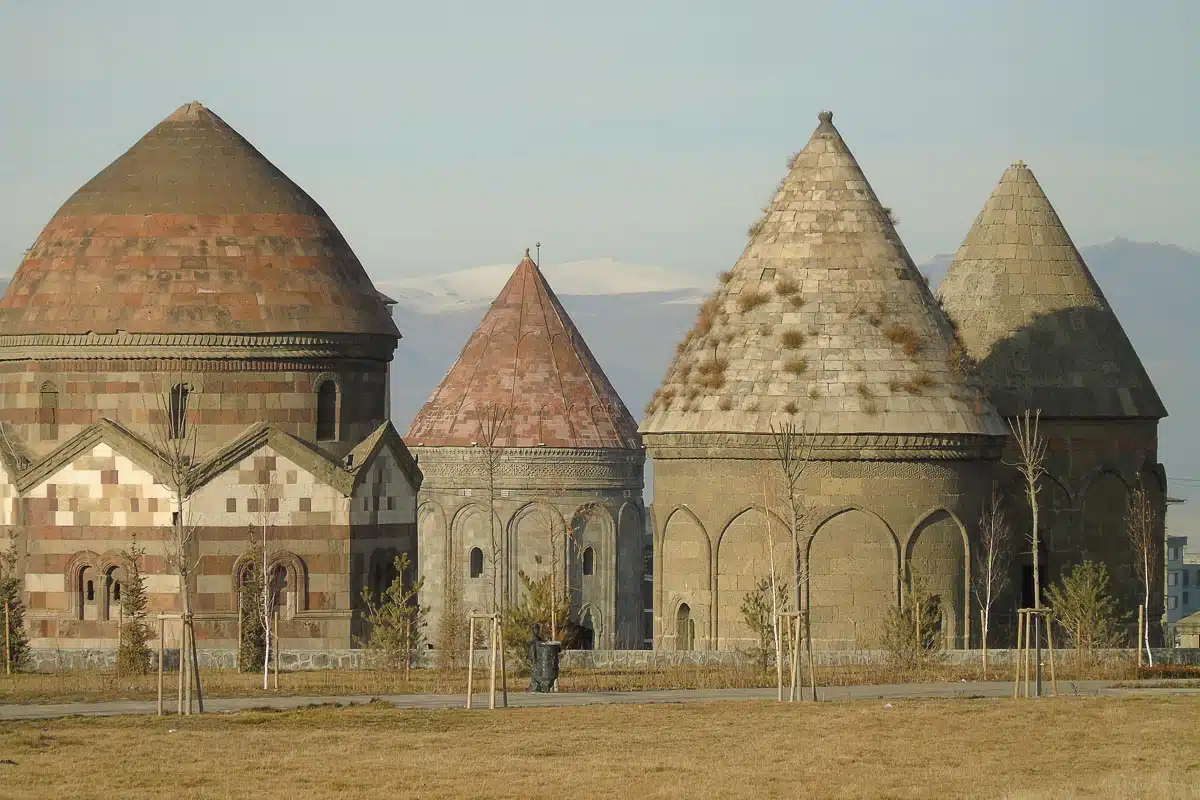 One of the most impressive places to visit in Erzurum is the three tombs that can be found on a hilltop overlooking the city. These tombs, known as the Three Tombs of Yakutiye, were built in the 14th century and are considered to be some of the finest examples of Seljuk architecture in Turkey.
The tombs were constructed for the three sons of the local governor of Erzurum at the time, and each tomb is unique in its design and decoration. The largest of the tombs, which is dedicated to the eldest son, features intricate stonework and a domed roof with a small opening that allows light to filter in.
The middle tomb is decorated with intricate geometric patterns, while the smallest tomb is adorned with floral motifs. Visitors can explore the tombs and appreciate the skill and artistry of the craftsmen who created them over 700 years ago.
Address: Sultanmelik Mh, 25100 Yakutiye/Erzurum, Türkiye. Click here for directions.
Opening hours: 24 hours
Ticket price: Free
---
3. Visit the Ulu Cami Great Mosque
The Ulu Mosque is one of the oldest and most impressive mosques in all of Turkey. Built in the 13th century, the mosque is known for its intricate stone carvings and colorful mosaics. Visitors can also explore the mosque's courtyard, which is filled with beautiful gardens and fountains.
Address: Camiikebir Mh., 25200 Yakutiye/Erzurum, Türkiye. Click here for directions.
Opening hours: 24 hours
Ticket price: Free
---
4. Eat Cag Kebab (Top Erzurum Things To Do)
The most famous dish from Erzurum is the cag kebab. Unlike standard doner kebabs, lamb meat is roasted horizontally, rather than vertically, on a spit over hot coals. It is served with flour tortilla, a spicy tomato salsa and salad.
You won't have far to go to find this specialty in Erzurum, but after a little research I found out about Ye Gor Cag Kebab close to the railway station and I wasn't left disappointed. In fact, I went back the next day for more.
Eating cag kebab was one the highlights of visiting Erzurum for me, and I was even able to help prepare the dish (though just for a couple of gimmicky tourist photos). I forgot to note down the prices, but it was inexpensive and good value considering the amount of food served.
Address: Gez Mahallesi, 50. Yıl Cd. No:17, 25100 Yakutiye/Erzurum, Türkiye. Click here for directions.
Opening hours: 9am to 12am Monday to Friday and 9am to 11:30pm Saturday and Sunday
---
5. Check out the Erzurum Archeological Museum
If you want to learn about the history of city and this region of Turkey then head along to the local museum, one of the best things to do in Erzurum for history lovers.
This museum houses a collection of artifacts that date back to the Bronze Age. Visitors can explore the ancient artifacts, which include jewelry, pottery, and coins. The museum also has a collection of rare Ottoman coins and manuscripts.
Address: Sultanmelik, Ceylanoğlu Sk. No:4, 25030 Yakutiye/Erzurum, Türkiye. Click here for directions.
Opening hours: 10am to 5pm Sunday to Monday
Ticket price: 25TL ($1.25)
---
6. Shop at the Bazaar
Erzurum's bustling bazaar is a great place to pick up souvenirs and gifts and is filled with vendors selling everything from traditional crafts to spices to clothing. Visitors can also enjoy a cup of tea or coffee while browsing the different stalls.
Address: Lalapaşa, 25100 Yakutiye/Erzurum, Türkiye. Click here for directions.
Opening hours: 10am to 5pm Sunday to Monday
---
7. Visit Palandoken Ski Resort
Situated in the eastern Anatolian mountains, Palandoken Ski Resort is one of the premier ski resorts in Turkey. The resort features a variety of ski runs, ranging from beginner to advanced. With its stunning views of the surrounding mountains and valleys, Palandoken is a great place to spend a winter weekend.
The resort has over 26 miles (43 kilometers) of slopes with blue (easy), red (intermediate) and black (difficult) runs. There are 13 ski lifts around the mountain to get skiers to the slopes.
Address: Yunusemre, Palandöken Yolu, 25080 Palandöken/Erzurum, Türkiye. Click here for directions.
Opening hours: 9am to 4:30pm from late November to mid April
---
8. Hike through the Kaçkar Mountains
The Kaçkar Mountains are a stunning range located in the northeastern part of Turkey, close to the Black Sea. With peaks reaching over 3,900 meters, the Kaçkars are a paradise for mountaineers and trekkers seeking adventure in a pristine natural environment.
The region is also renowned for its crystal clear glacial lakes, rushing rivers, and lush forests, home to a variety of wildlife, including brown bears, wolves, and lynx.
The Kaçkar Mountains are also an important cultural center, as they have been inhabited by diverse communities for thousands of years, leaving behind a rich legacy of traditional practices, music, and cuisine.
---
9. See Cifte Minareli Madrasa
The Çifte Minareli Madrasa is a historical Islamic school located in the centre of the city and one of the top places to visit in Erzurum. Built in the early 13th century, the madrasa is known for its distinctive twin minarets, which are among the most recognizable landmarks in the city.
The structure features a classic Seljuk architectural style with intricately decorated façades and a spacious inner courtyard surrounded by lecture halls and student chambers.
The madrasa played a significant role in the development of Islamic education and scholarship during its heyday and attracted students from various parts of the Muslim world. Today, the Çifte Minareli Madrasa is a popular tourist attraction and a symbol of Erzurum's rich cultural heritage.
Address: Rabia Ana, Cumhuriyet Cd. No:3, 25030 Yakutiye/Erzurum, Türkiye. Click here for directions.
Opening hours: 9am to 6pm Tuesday to Friday, and Sunday
Ticket price: Free
---
10. Yakutiye Madrasa (One of the Top Erzurum Attractions)
The Yakutiye Madrasa is a notable Islamic educational institution and a historical monument located in the city of Erzurum, in eastern Turkey. The madrasa was built in the late 14th century during the reign of the Jalayirid Sultanate and was named after its founder, Yakutiye.
The architectural style of the building is a mix of Seljuk and Timurid styles, and it features intricate stonework, carved wooden doors, and beautifully decorated walls with geometrical and floral patterns.
Today, the madrasa has been restored and transformed into a museum that displays a vast collection of historical artifacts, including ceramics, coins, and manuscripts, providing visitors with a glimpse into the rich cultural and intellectual heritage of Erzurum.
Address: Lalapaşa, 25200 Yakutiye/Erzurum, Türkiye. Click here for directions.
Opening hours: 8am to 5pm every day
Ticket price: Free
---
Getting to Erzurum
I took the bus to Erzurum from Van. The scenery along the way was phenomenal as we skirted majestic Lake Van before heading north into the mountains. The journey took around 7 hours and cost ($16). You can book online at BusBud.
The main bus station (Otogar) is outside of town on the motorway so you'll need to take a taxi there and back which takes 20 minutes and costs around 100TL ($5).
Erzurum Airport is located 8 miles (13 km) northwest of the city and has domestic flights to other cities across Turkey including Istanbul and Izmir. There are also seasonal flights to and from Moscow.
Getting Around Erzurum
The city is small enough to cover all the major sights and attractions on foot. There are buses to the resort at Palendoken though for visitors taking a taxi is easier and inexpensive.
Is Erzurum Safe
The city is safe enough for travellers though some residents are quite conservative and there are reports about people being bothered for eating or smoking during Ramadan. Read my full guide on safety in Turkey for more info.
Our partners at SafetyWing provide cover for travellers, backpackers and Digital Nomads. Get a quote here and ensure you have the proper cover for your trip.
Erzurum Hotels
Places to Visit in Erzurum FAQ's
What are the most popular things to do in Erzurum?
Some of the most popular Erzurum tourist attractions include the castle, citadel, three tombs, Yakutiye Madrasa and Palandoken mountain and ski resort.
How long should I spend in Erzurum?
A few days is enough time to see all the major Erzurum attractions but if you wish to ski or jike in the mountains then a week is better.
Is Erzurum worth visiting?
As the highest city in Turkey and surrounded by snow-capped mountains Erzurum is definitely worth visiting. There is plenty to do in the city itself and the surrounding mountains.
Final Thoughts
With so many amazing things to to in Erzurum from exploring the castle and citadel to the tombs, mosques and of course beautiful mountains, this is a destination that should be on the list of every serious traveller.
You might like my other articles about places to visit in Turkey:
About the author:

Steve Rohan is a writer from Essex, England. He has travelled to over 60 countries, lived in China and Hong Kong, and is now living the digital nomad life on the road.
Steve prefers "slow travel" and has covered much of Europe and Asia by train, bus and boat.
Where I am now: Yerevan, Armenia 🇦🇲